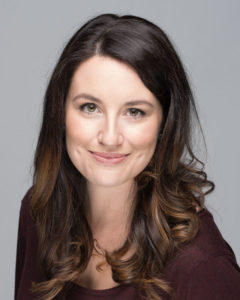 Erin Reis is a bay area vocalist, actress, director and private vocal instructor with 18+ years of performance experience in Musical Theatre, and over a decade of experience in teaching music. She holds her Bachelor of Arts degree in Theatre Arts and Music from San Francisco State University and runs a private vocal studio in the East Bay. Over the years Erin has performed in over 50 Musical Theatre productions in the San Francisco Bay Area and has worked with a wide variety of Theatre companies, including DMT, SBMT, PCRT, Stage1, Tri-Valley Rep, The Victoria Theatre and GSTP.
Erin has received recognition for such roles as Luisa in The Fantasticks (Outstanding Actress in a Leading Role, Stage1 Theatre), Miss Dorothy in Thoroughly Modern Millie (Outstanding Actress in a Supporting Role, Stage1 Theatre), The Argus Award for Outstanding Chorus Member in a Musical (2003) and Best Solo Vocalist in Disney's Magic Music Days (2004). In 2017, she had the pleasure of portraying Eliza Doolittle in South Bay Musical Theatre's production of My Fair Lady and most recently Erin was in The Douglas Morrisson Theatre's production of Hello Dolly as Irene Malloy. When she is not onstage she is most likely behind the scenes directing, vocal directing, building sets, or running sound for local youth theatre programs. In her free time she enjoys traveling, rescuing dogs, reading, eating good food, and going on adventures with her two dogs Jiminy and Walter.
Stay tuned for current news and events!
Erin taught my daughter solid techniques of breath support, vocal placement and structuring a vocal performance from day one. She teaches and structures a song. Armed with these skills, my daughter's audition landed her a show after a few weeks of lessons with Erin!
My daughter Florence loves her voice coach Erin. We give her a triple S rating! Skill/Style/Smile!
Skill: We thought we signed up for voice lessons, but we got acting and audition prep as a bonus! Erin teaches everything about musical theater and much more.
Style: Erin's positive and welcoming teaching style has built up Florence's confidence in singing and in performance. She is a great mentor to her students.
Smile: No need to explain, it's written on her face!
Erin taught my daughter solid techniques of breath support, vocal placement and structuring a vocal performance from day one. She teaches and structuring a song. Armed with these skills, my daughter's audition landed her a show after a few weeks of lessons with Erin!
"Matt Skinner has impressive vocals and an assured bearing as Sir Harry, and his Lady Larken, Erin Reis, displays a lovely voice of her own and is fully at home in her character. The two are delightful in their numbers "In a Little While" and "Yesterday I Loved You.
While my daughter Anika, had great potential she had little knowledge of voice and singing technique . Erin immediately struck up an excellent relationship with her and was careful to gradually develop a shared understanding of her voice and its qualities. My daughter has greatly benefitted from Erin's positive approach and expertise. The lessons have both enhanced Anika's confidence in performance as well as her vocal skills for Musical Theatre.
Erin has been an inspiration to Anika. I recommend her very strongly.
Erin Reis is an accomplished musical theatre actress. She possesses a beautiful, strong, clear soprano which is reminiscent of the voice the great Julie Andrews once possessed. I have had the pleasure of directing and working with Erin for over 15 years now. From straight plays like The Laramie Project to her outstanding leading performance as Luisa in The Fantasticks, and most recently as Eliza Doolittle in My Fair Lady, Erin's acting talents are on par with her gorgeous singing voice.
Erin creates deeply believable characterizations for each of her differing characters and what's even more delightful, she dances very well. Couple these talents with her charming personality, and one soon learns that Erin is a director's dream. For not only is she a kind and talented voice teacher herself, she takes directions from her various directors with a joy of performing that is unparalleled. Her cast mates always express how much they love working with her, for her demeanor is always that of a true professional who enjoys the work, one who knows that there is always something more to learn.
…flower peddler Eliza Doolittle, superbly talented with a glorious voice of Erin Reis…
Reis delivers a delightfully unblemished Hope Cladwell.
Reis has that million dollar smile that radiates on stage. I see a Peggy Sawyer event happening in her future.
When the muted opening gave way to "Over the Rainbow," by Erin Reis as Dorothy, the audience quickly realized they were in for a treat. Even in the unlikely event that all else went bad, Reis can sing! Strains of Judy Garland teased the ear again and again as Reis masterfully displayed her vocal range and depth in the familiar and ever pleasing notes.
Erin is one of the most talented vocalists in the bay area. Her skills and ability are beyond reproach and she effortlessly shares her knowledge with students of all ages.